12 May 2022
Stem cells increase survival and remission in systemic sclerosis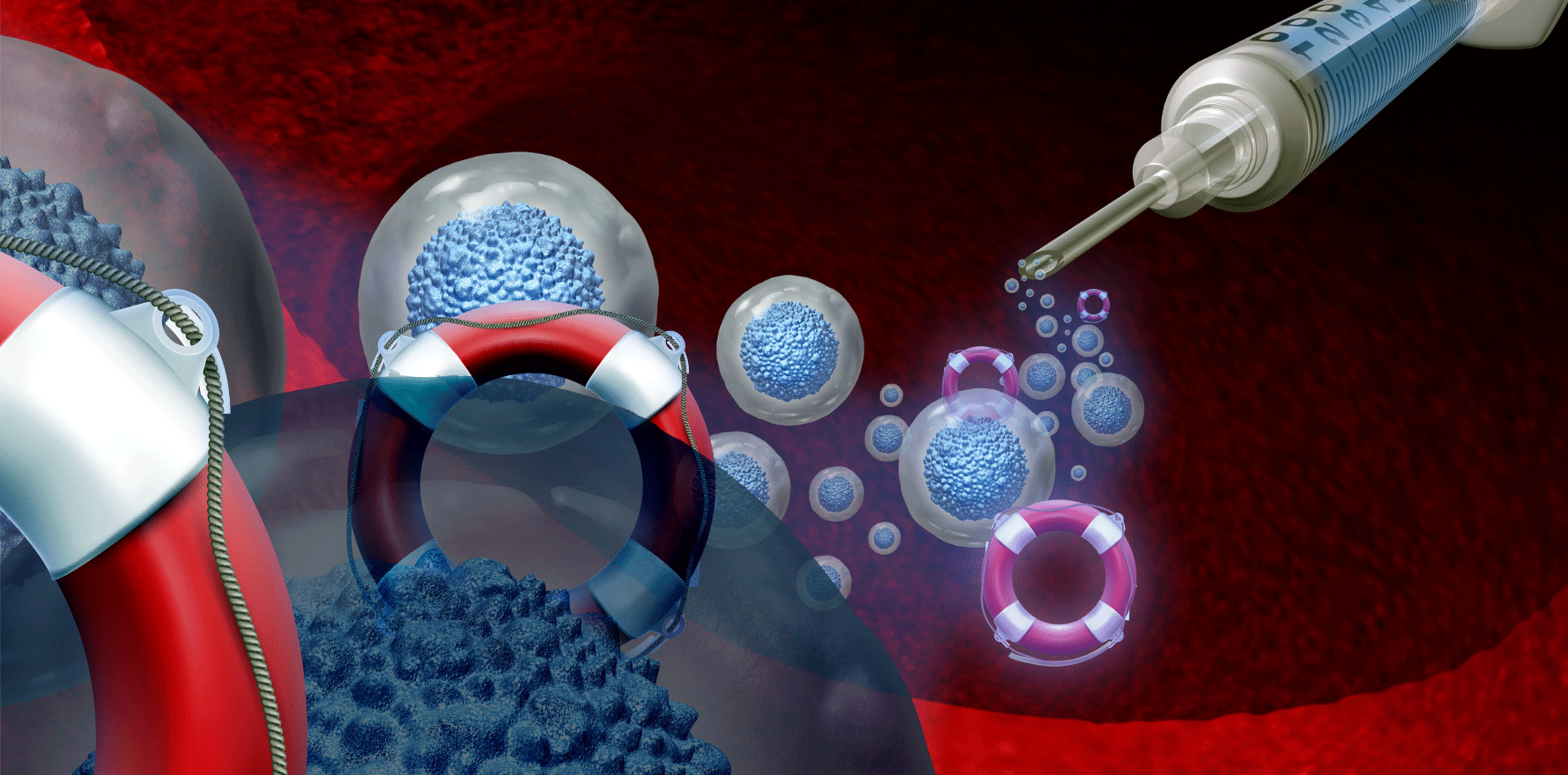 People with severe systemic sclerosis have a 20-30% better survival rate after stem cell transplant than patients who have received cyclophosphamide treatment alone, recent studies have shown.
Research findings by a research team at Sydney's St Vincent's Hospital have added further evidence of the potential benefits of stem cell therapy as a life-saving treatment for this lethal autoimmune disease.
Dr Ross Penglase will present the research to the upcoming Australian Rheumatology Association Annual Scientific Meeting.
"Our data presented to the ARA mirrors that of the international experience," said Dr Penglase, a rheumatologist and PhD candidate at the University of NSW.
Systemic sclerosis patients who received autologous haematopoietic stem cell transplantation earlier had better outcomes and were more likely to enter a prolonged remission, Dr Penglase said.
"Compared with historical cohorts, stem cell therapy improved survival, and we confirmed the phase-3 data demonstrated in randomised studies.
"We've shown that patients have softening of their skin, stabilisation of their lung disease, and an improvement of their patient-reported outcomes."
However, older patients and smokers didn't respond as well, Dr Penglase said.
The earlier patients are referred to a stem cell program, the better, he said.
"We'd like rheumatologists to consider referring their systemic sclerosis patients earlier. Not only are patients more likely to have better outcomes, but we'd also like to see them before they get the heart and lung disease that would make a stem cell transplant too dangerous for them."
The St Vincent's Hospital unit runs a state-wide service that provides stem cell transplants for scleroderma, and researchers have been studying the benefits of stem cell therapy for systemic sclerosis for more than 20 years.
Worldwide, research into stem cell therapy for diffuse systemic sclerosis is growing as evidence shows it improves survival and remission from this disease with otherwise limited treatment options.
While systemic sclerosis is not common – it has an incidence of around one in 10,000 – the severe forms of the disease have a five-year survival rate of less than 70%.
That's a worse prognosis than some cancers, Dr Penglase said.
"The most common patient is a woman in their mid-40s, with many years of life left, so that underpins the rationale for wanting to treat these patients," he said.
Lead researcher Professor John Moore has been involved in autologous stem cell transplant programs since the 1990s, beginning with a focus on rheumatoid arthritis, and then systemic sclerosis and multiple sclerosis.
"We have the longest-running and biggest stem cell transplant program for all autoimmune disorders, including systemic sclerosis. We have also done a handful of vasculitis and lupus patients," said Professor Moore, professor of Medicine (conjoint at UNSW) and senior staff specialist in the haematology department at St Vincent's Health Network.
It's been 20 years since the first St Vincent's sclerosis patient received immune suppression, followed by an infusion of her own stem cells in the hope of re-growing her immune system.
Following that one-off treatment in 2002, the patient was still going strong and living an active life, said Professor Moore.
"When we first did it, we weren't sure we could tell patients how long they were going to have a response for, so 20 years is pretty impressive," Professor Moore said.
"We all want that evidence to say that this is important to do, because doing a stem cell transplant carries the risks of infection, bleeding, heart problems, infertility and hair loss.
"In predominantly younger females, we need to be sure that we're helping them in the long term if we're going to cause these side effects."
The St Vincent's data over 20 years showed that about 50% of patients did not need any further therapy and remained in remission, Dr Penglase said.
Worldwide, more than 3000 people with autoimmune diseases – mainly systemic sclerosis and multiple sclerosis – have been treated with stem cell therapy.
In the past 10 years, three studies in the US and Europe had shown that stem cell transplant for scleroderma was beneficial compared with monthly intravenous cyclophosphamide, a chemotherapy drug, Professor Moore said.
"All those studies showed improvement in quality of life, improvement in the skin, improvement in lung function, and improvement in overall survival.
"Patients were 20% to 30% more likely to be alive with their condition at four to five years after the stem cell transplant.
"Our results mirror exactly what happened in those randomised studies in terms of survival and response rate."
In the control arm of the international randomised studies, 30% to 40% of those patients died at five years.
Ideally, patients should be referred to a stem cell program as early as possible, Professor Moore said.
"If a patient has progressive disease, and their skin is getting harder and tighter or their lungs are getting worse despite conventional treatment, they're the trigger points for us to say they should consider a stem cell transplant."
To reduce the risks of stem cell therapy, particularly on the heart, St Vincent's researchers have trialled using lower doses of chemotherapy.
"We've shown in other studies that we can use lower doses of chemotherapy in high-risk patients, and it still works," Professor Moore said.
"Our safety data is the same or better than the rest of the world, and we're looking after sicker patients."
The team's patient surveys have shown that patients reported significant improvement in quality of life, Professor Moore said.
"In the longer term, medication-free remission is what we hope for, and a large proportion of patients have continued to have that."
Dr Ross Penglase is presenting Autologous Haematopoietic Stem Cell Transplantation for Severe Systemic Sclerosis Using Standard Dose Cyclophosphamide Conditioning – A Single Centre Experience in concurrent session 9B: New Investigator Free Papers on Sunday 22 May (10:45-12:15).